Resetting Your REA Password
To access member services, including getting member pricing on the annual meetings, you must first supply your membership login and password (sometimes referred to as your "Wild Apricot" password) to authenticate yourself as a member.
This login is a screen that looks like this…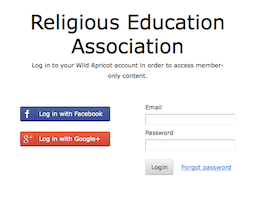 If you don't remember what email address you used for your membership you can look yourself up in the member directory. REA staff cannot know your password (the system does not share that with us). If you do not know your own password, then you should click on the "Forgot password" link next to the "Login" button and follow the procedure it provides to reset your password.