Selecting Sessions with Sched
In order to "subscribe" to sessions for the annual meeting you just need to set up your password on Sched and choose these sessions for your personal schedule. This page explains what this process is to make it easy for you to follow.
Claim your Sched account
Shortly after registering for the annual meeting you should have received an email from Sched inviting you to set up your password and profile. Search your email for a message from "notifications [at] sched [dot] org" (check your spam too, just in case it was put there). If you can't find this invitation, please contact us at web [at] religiouseducation [dot] net and we will resend it. The invitation will look something like this: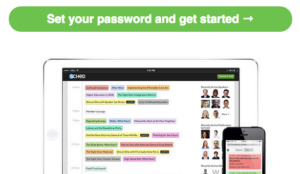 Clicking the big green button in that email will take you to a screen where you can choose your own password for Sched: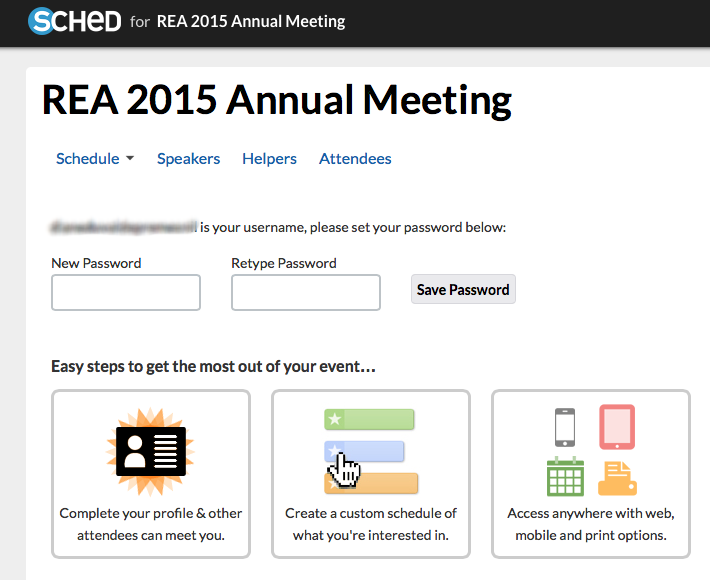 Enter the same password twice and click on the "Save Password" button. Once this is set up you can log in to the schedule with your email address and this password in the future.
Add sessions to your personal schedule
Next, go on to the schedule itself (see the "Create a custom schedule" button). There you can either click on the little circles next to each event or on the "Add to my Sched" link that appears when you hover over events. Either of these actions will add the event to your schedule.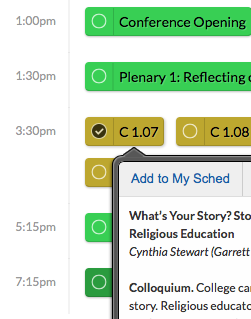 In addition to the breakout sessions, be sure to put plenaries, meals, and other events on your schedule!
Fill in your profile
The schedule is also how colleagues at REA will know more about you. Take the time to fill out your profile in the schedule, maybe even include a picture of yourself! Do this by clicking the little circle with your initials in it and then clicking the "Edit Profile" button that appears.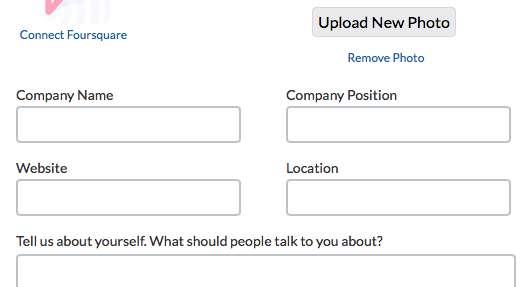 Once you've filled out your profile, click the bright green "Save Settings" button at the bottom of that page.
Login again to check or change your schedule
Sched should remember your log in from the browser on which you first set up your account, but if you ever need to log in from another browser or device, you may have to enter your username and password again.
Just visit the schedule and look for the login link just above all the sessions.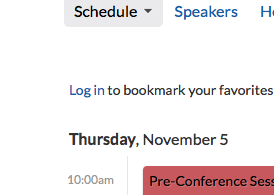 Fill in your Sched username and password and you should be good to go. Please note, your Sched username and password are probably not the same as your REA member username and password. Sched is a separate, third-party system we are using. Your account there is distinct from your REA membership. To reset your Sched password visit their Password Reset page.
We hope you enjoy using Sched. We think it will not only help us get a better sense of what sessions you would like to attend, but will also help you connect with your colleagues before, during, and after the REA meeting.